Customer Tailored Energy Efficiency Pilot Program
Now Accepting Enrollments!
The Customer Tailored Energy Efficiency Pilot (CTEEP) Program supplements the current New Jersey Commercial and Industrial incentive programs by offering a streamlined approach to developing and implementing energy efficiency projects for mid-to-large customers.
CTEEP allows customers to bundle multiple prescriptive and custom measures into one application with one project delivery approach.
Customers can install advanced and emerging technologies which are not currently addressed under SmartStart Buildings.
Larger customers with multiple measures can access incentives for their targeted energy efficiency projects without enrolling in a whole-building program.
Performance Verification engages with customers after their project is complete to ensure persistence of savings.
Target Customers
Existing Buildings: Peak demand 200kW or higher
New Construction: 50,000 sq.ft. or larger
No minimum energy savings requirement
Eligible sectors may include but are not limited to K-12 schools, colleges/universities, hospitals, large office buildings, multi-story retail, industrial and manufacturing.
Process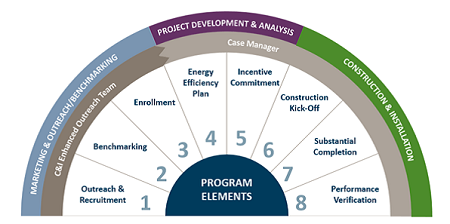 Outreach/Benchmarking (Optional) - Engage with a NJCEP outreach representative to learn more about how CTEEP aligns with your needs. A representative can speak to you over the phone or visit your facility. If CTEEP is deemed to be a good fit, the outreach representative can verify existing conditions so that you can begin implementing measures.
Enrollment - Submit an Enrollment Form and conduct a scoping meeting with NJCEP program staff. The scoping meeting is intended to bring together all relevant parties to review the measures and formally define the development criteria for the Energy Efficiency Plan.
Project Development & Analysis - A NJCEP Case Manager will work with you to approve the enrollment and develop an Energy Efficiency Plan which will be used to commit the incentive funds.
Construction and Installation - Measure incentives and technical assistance incentives are paid at milestones throughout the construction process.
Incentive Rates
Measure incentives align with rates offered under the current SmartStart Buildings program:
Prescriptive Measures
Measures meeting the requirements of the current SmartStart Buildings Program will receive the established incentive under that program.
Custom Measures (including Advanced Lighting Controls and emerging technologies)
The lesser of:

$0.16 per kWh annually
$1.60 per therm annually
50% of project cost
Buy-down to 1-year payback
Technical Assistance: In addition to measure incentives, Technical Assistance incentives allow customers to be reimbursed for 50% of soft costs up to $10,000 per project associated with developing the energy efficiency projects. See the Enrollment Form for additional information.
Incentive Cap:
$250,000 per project
50% of project cost
Buy-down to 1 year payback
This does not include the Technical Assistance incentive
How do I get started?
If you would like to learn more about CTEEP and determine whether it may be a good fit for your needs, call (866) NJSMART to schedule a meeting with an Outreach Representative. You may also submit a request to be contacted via email.
If you are ready to move ahead with CTEEP, complete the Enrollment Form below and submit it to begin the application process.
Documents