Comfort Partners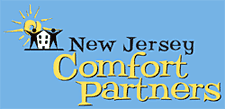 The New Jersey Comfort Partners Program is a free energy saving and energy education program for qualified low-income customers.
As of early 2018, Comfort Partners has helped over 109,000 families since it was launched in 2001! Read more here.

We partner with you to help you save energy and money and make your home healthier and more energy efficient. Certified Building Performance Institute contractors will install energy saving measures in your home to help lower your energy bills. You will also be taught new ways to conserve energy and how to create an Action Plan to support your efforts.
If eligible, participants receive:
Installation of cost-effective energy efficiency measures in the home (determined on a home-specific basis) which can include: efficient lighting products; hot water conservation measures (water heater insulation, water heater pipe insulation and energy-saving showerheads and aerators); replacement of inefficient refrigerators; thermostats; insulation upgrades (attic, wall, etc.); blower-door guided air sealing; duct sealing and repair; heating/cooling equipment maintenance and other measures.
Comprehensive, personalized energy education and counseling.
All efficiency measures and energy education services are provided free of charge.
Promotion Dates
This program is available through June 30, 2019 or while funds last.
Eligibility Requirements
The Comfort Partners Program is available to any New Jersey household with significant energy use, having an income at or below 225% of the federal poverty guidelines.
2018 Income Guidelines
(225% of the Federal Poverty Guidelines)

Size of Family
Weekly Income
Monthly Income
Yearly Income
1
$525
$2,276
$27,315
2
$712
$3,086
$37,035
3
$899
$3,896
$46,755
4
$1,086
$4,706
$56,475
5
$1,273
$5,516
$66,195
6
$1,460
$6,326
$75,915
7
$1,647
$7,136
$85,635
8
$1,834
$7,946
$95,355

For family units with more than 8 family members:
Add $187 to the weekly income, $810 to the monthly income, or $9,720 to the yearly income for each additional member.

Households that receive USF, Lifeline and/or Pharmaceutical Assistance to the Aged and Disabled (PAAD) are also eligible.
The customer must also use the home as a primary residence and be the ratepayer of record with the electric or gas utility.
If your primary source of heat is oil, propane or kerosene, please contact the NJ Department of Community Affairs, Office of Weatherization at 800-510-3102 or locate the county office that serves your home.
Literature and Other Information
Read what
others are saying
that have participated in this worthwhile program, or watch this
short video
highlighting the 50,000th home from Linden, New Jersey.
Additional Opportunities to Save
Learn about additional Energy Assistance Programs offered by the State of New Jersey.
Are you wondering what other rebates might be available? Visit our Rebates and Promotions page.
Request More Information

For more information, call us toll free at
800-915-8309
or complete the form below and a representative will contact you.
Note:

Fields in
bold
are required