Bulk Appliance Recycling
Note: Select energy efficiency programs for existing homes are transitioning to the utility companies

To learn more about this transition and for utility contact information please visit this page.
Utility customers who purchased appliances or HVAC equipment prior to July 1, 2021 may still submit their projects to NJCEP's Appliance Rebate Program or the WARM/COOL Advantage Program for heating, cooling, and water heating equipment. Customers will have 180 days to submit their rebate. Appliances and HVAC equipment purchased on or after July 1, 2021 will be eligible for utility-run rebate programs.

The Appliance Recycling Program will no longer be available beginning July 1, 2021. All appliance pick-ups through NJCEP must be completed by June 30, 2021. Please contact your utility for more information about available recycling programs if you are unable to schedule a Recycling Pickup before June 30, 2021.



The Bulk Appliance Recycling Program is available to Atlantic City Electric, Jersey Central Power & Light (JCP&L) and Rockland Electric customers. PSE&G electric customers please call 888-484-8313 for information about their recycling program.
Buildings with at least five dwelling units can access rebates when recycling five or more working refrigerators, freezers, room air conditioners or dehumidifiers. Please note that recycling pickups will be contactless for the time being to ensure your safety and to mitigate the spread of COVID-19.
Rebates:
$50 per refrigerator or freezer
$25 per room air conditioner or dehumidifier
The requirements are as follows: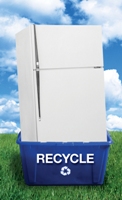 Refrigerators and freezers must be between 10 and 30 cubic feet in size.
Room air conditioners must be removed from windows and dehumidifiers should be drained of water.
All appliances must be owned by the customer and operational at the time of pick up.
To mitigate the spread of COVID-19, all appliances for each scheduled pickup must be collected in a centralized location for each scheduled pickup. Due to current COVID-19 conditions, either outside or in an open warehouse or storage facility.
To schedule a pickup, call 1-866-NJSMART (1-866-657-6278). When you call, please provide the following information:

Property Manager or building manager name
Contact person, phone, and email address
Complex or location name
Street address (including city and zip code)
Electric Utility
Unit Type (Refrigerator, Room AC, etc.), total quantity, and quantity of each type to be recycled
Pickup location, e.g. parking lot, garage, etc.
Any specific issues with truck access
Potential pickup dates

A program representative will then contact you with the scheduled pick-up date.
Please note: If you are serviced by a municipal electric co-op provider then you are not eligible for this program.
Visit this page if you want to recycle an appliance for a non-multifamily residence.