NJ BPU Hosts Korean Delegation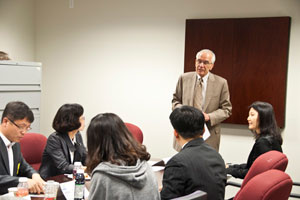 When a delegation of fifteen representatives from various provinces, cities and counties in the Republic of Korea was seeking to study a model program for promoting clean energy and improved energy efficiency to residents and commercial entities, the search took them halfway around the world - all the way to New Jersey.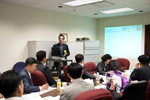 New Jersey's Clean Energy Program (NJCEP) has garnered international acclaim for its accomplishments in significantly reducing energy consumption and reliance on carbon-based fuels across several market sectors. From 2001 – 2009, New Jersey has produced accumulated savings of over 26.6 million megawatt hours of electricity and nearly 81 million dekatherms of natural gas from energy efficiency programs, over 7.9 million megawatt hours of renewable generation and nearly 1.9 million megawatt hours of distributed generation from combined heat and power systems.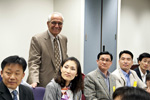 To learn how NJCEP accomplished these impressive results, the South Korean delegation and members of the New York Consulate's Office attended an informational session that began with a program overview by Commissioner Fiordaliso. The delegation also heard presentations about programs available to commercial, industrial and institutional customers as well as about the State's approach to renewable energy sources such as solar, wind and biomass.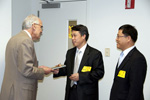 The delegates came away from the event with a greater understanding of the many facets of an effective program to promote clean energy and some practical ideas that will help them build a roadmap for climate change in their own country.
Note: Program descriptions contained in these 2010 slide presentations may no longer be current.