Learn More
Incentives are available for installing energy efficient equipment in multifamily buildings that have:
Five or more dwelling units, and
A single owner or management entity (e.g. building owner, developer, management company, homeowners' association, condominium association, cooperative housing corporation or association).
Incentives are available for both existing buildings and new construction projects:
| | | | |
| --- | --- | --- | --- |
| | New Construction | | Existing Buildings |
The Multifamily Program includes three incentive pathways that are defined by the needs and scope of each project. This program structure rewards projects that take a more comprehensive approach to achieving energy savings, but it also provides a simpler, more prescriptive path to make it possible for projects that are not able or willing to make a larger commitment to participate.
Visit our GETTING STARTED page to review program materials and begin the application process.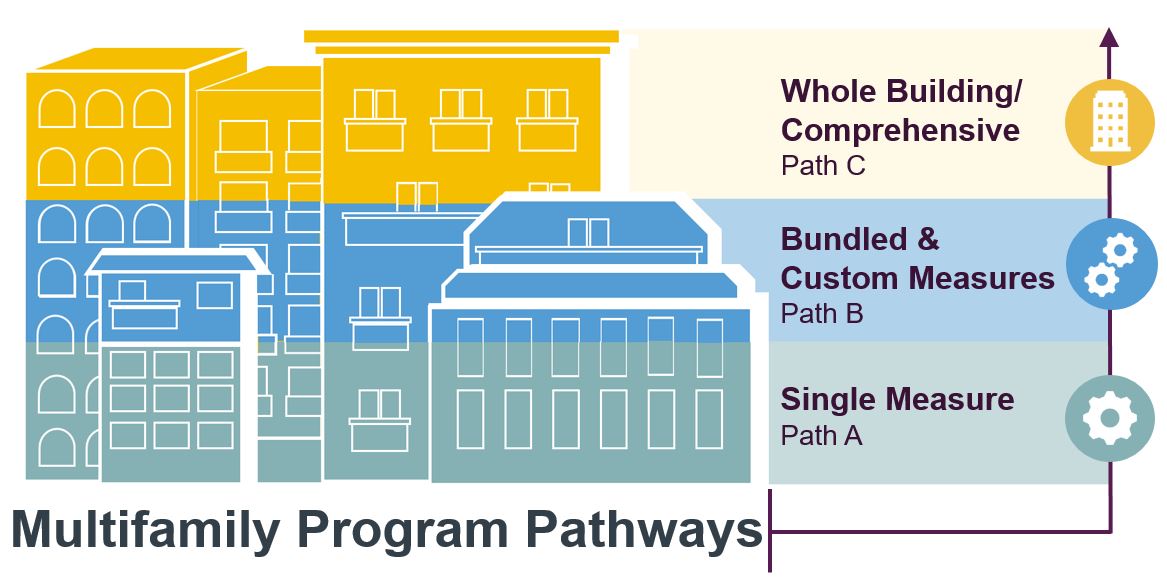 In addition to the efficiency incentive opportunities above, multifamily properties can now take advantage of Bulk Appliance Recycling. This is available as a new feature of the Energy Efficient Products, Appliance Recycling Program.
Eligible multifamily properties will be able to schedule a no-cost pickup for eligible appliances. Participating in Appliance Recycling is not required or contingent upon participating in the Multifamily Program.
Visit the Appliance Recycling webpage to learn more or to schedule a pickup.

Trained outreach staff are available to assist applicants with this program. Applicants seeking guidance on program participation or eligibility can call, email, or meet in-person with an outreach account manager to receive assistance.
Phone: 866-NJSMART (657-6278)
Email: Multifamily@NJCleanEnergy.com