Food Service Equipment Incentives

Money-Saving Solutions for Restaurants and Other Food Service Providers from New Jersey's Clean Energy Program
Here's some food for thought. Per square foot, restaurants use five to seven times the energy of other commercial facilities. For quick-service restaurants that specialize in high volume, that figure is closer to ten times the energy use of the typical office or retail store. Learn more.
In fact, the commercial food sector uses approximately $10 billion worth of energy each year. Where does it all go? On average, six percent is used for refrigeration, 13 percent goes to lighting, 18 percent is used for sanitation, 28 percent for heating, ventilation and air conditioning, and a massive 35 percent goes to food preparation.
While all of these elements are necessary to operate a restaurant or commercial food service department, equipment upgrades can make a huge impact on a facility's energy usage and profitability.
Read how Elijah's Promise used food service incentives coupled with the Direct Install Program to lower their energy bill by over $5,000 a month!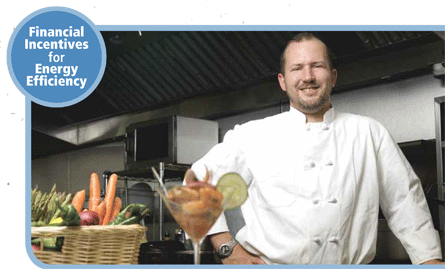 Take the first step to ensure your business receives its share of incentives. You'll be on your way to improving your bottom line with savings you can count on, now and down the road.
Food Service Rebates
Specific efficiency requirements and incentive levels are detailed on the Food Service Equipment application. Additional detail is available in the Program Guide.