What to Expect from a Home Energy Assessment
Note for PSE&G Electric and Gas Customers: PSE&G is Launching its Home Performance with ENERGY STAR Program on June 1, 2021
This program is available to PSE&G residential customers that receive both electric and gas service from PSE&G. If you are interested in participating in the Home Performance with ENERGY STAR program through PSE&G, please call 1-855-846-2895 or visit PSEG's website for more information.
All other New Jersey utility customers* may qualify for NJ's Clean Energy Program's (NJCEP) Home Performance with ENERGY STAR Program. Please see the information regarding NJCEP's program below.
*Customers of Atlantic City Electric, Jersey Central Power and Light (JCP&L), Rockland Electric, Elizabethtown Gas, New Jersey Natural Gas, South Jersey Gas, PSE&G "electric-only" customers, and PSE&G "gas-only" customers.
Specially trained and certified technicians will assess your home from top to bottom. The technician will take inventory, report on the current conditions in your home and will test for:
Health and safety check (carbon monoxide levels, moisture, and indoor air quality problems)
Overall comfort level (cold/hot spots, indoor air quality stuffiness/stale odors)
Air sealing opportunities
Insulation levels
Heating system efficiency
Cooling system/central air conditioning efficiency, if applicable
Domestic hot water system efficiency
Photo Credit: Eliot Caroom, Star-Ledger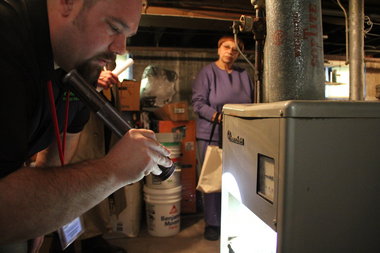 Watch this video for an indication of what you can expect from your home energy assessment.
Certified technicians use a number of diagnostic tools during your Home Assessment including the Carbon Monoxide (CO) Analyzer, which is an important health and safety tool. Your contractor will identify any potential health and safety issues during the initial assessment. Any issues that arise will need to be addressed before any energy efficiency improvements can be made through the program.
After the home energy assessment, you will receive a report listing recommended measures, along with financial incentives available to help you pay for the recommended improvement work. The eligible energy efficiency upgrades must meet specific efficiency requirements.
To schedule your home assessment, contact one of our contractors. Please allow up to three hours for your energy audit to be performed. Should you have any questions please call 866-NJSMART.
Participating contractors in the New Jersey Home Performance with ENERGY STAR program are independent home improvement contractors who have been Building Performance Institute GoldStar designated. The contractors who participate in the program warrant their own work and may charge different fees for services they provide, including the home assessment if additional testing is included. It is generally accepted practice to contact several contractors before selecting one. Neither the NJ Board of Public Utilities, New Jersey's Clean Energy Program nor its contractors, warrant the products or services of participating contractors.
Program details and incentives are subject to change without notice. Commitments are not to exceed budget. Program ends June 30, 2021.