What to Expect from a Home Energy Assessment
This program is now available to all investor owned residential utility customers*. If you are interested in participating in the Home Performance with ENERGY STAR program, please visit this page to access your utility's website and phone number.

*Customers of Atlantic City Electric, Jersey Central Power and Light (JCP&L), Rockland Electric, Elizabethtown Gas, New Jersey Natural Gas, South Jersey Gas, and PSE&G.

Specially trained and certified technicians will assess your home from top to bottom. The technician will take inventory, report on the current conditions in your home and will test for:
Health and safety check (carbon monoxide levels, moisture, and indoor air quality problems)
Overall comfort level (cold/hot spots, indoor air quality stuffiness/stale odors)
Air sealing opportunities
Insulation levels
Heating system efficiency
Cooling system/central air conditioning efficiency, if applicable
Domestic hot water system efficiency
Photo Credit: Eliot Caroom, Star-Ledger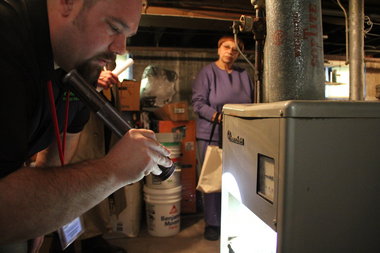 Watch this video for an indication of what you can expect from your home energy assessment.
Certified technicians use a number of diagnostic tools during your Home Assessment including the Carbon Monoxide (CO) Analyzer, which is an important health and safety tool. Your contractor will identify any potential health and safety issues during the initial assessment. Any issues that arise will need to be addressed before any energy efficiency improvements can be made through the program.
After the home energy assessment, you will receive a report listing recommended measures, along with rebates available to help you pay for the recommended improvement work.
Contact your gas or electric utility for more information on this program.