Residential New Construction
Proposed Updates to the New Construction Program
On July 25, 2022 a stakeholder meeting was held to discuss proposed changes to the New Construction Program. The draft plan outlining the proposed updates, meeting presentation slides and a webinar recording are available. Additional details regarding the meeting as well as information on the deadline for comments can be found here.
BUYING OR BUILDING THE BEST HOME YOU CAN
Not all homes are created equally. Construction quality is one key to a great home, but how do you really know that everything has been installed correctly? The New Jersey Uniform Construction Code (UCC) governs building, plumbing, electrical, fire protection, mechanical and energy regulations. Codes are updated every three years and are considered the minimum standard for home construction.
CODE COMPLIANCE
Builders are responsible to meet or exceed building codes. Part of that process involves pulling building permits and having the home inspected by township or private inspectors. Among other things, the International Energy Conservation Code (IECC) requires New Jersey builders to:
Correctly size the heating and air conditioning systems for our two climate zones (ACCA Manual J).
Select the proper pairing of heaters and air conditioners (ACCA Manual S).
Design all the duct work properly (ACCA Manual D).
Install minimum insulating values in walls, roofs, basements, and windows
Building science has evolved and improved over the last 20 years, but many builders have not. Phones have changed, how to listen to music has changed, your car has changed, but your house, well, let's just say there are better, healthier, safer, more durable and more energy efficient ways of building now. Zero energy homes are being built all over the world. You can own one today. Ask for one.

ASK FOR MORE INFORMATION
The old expression, "buyer beware" is changing. That's because access to actual information (not hype) is improving. Think about this. A new home is probably the most expensive purchase you'll ever make, but you probably can get more information about buying a new phone. That's because the phone industry has changed with the times and knows that younger buyers want information and transparency not sales pitches. No one wants to hear "trust me" from a contractor. What we want to hear is "let me show you".
ENERGY STAR® Homes can give you that information. They have been inspected both before and after construction. They have been certified to perform better than other homes. Every ENERGY STAR home receives a score. It's called a Home Energy Rating Score or HERS rating.
(Graphic #1) All ENERGY STAR® homes are certified with the Home Energy Rating System (HERS) from 0 to 100. A code house typically has a score of 70 or greater. Click the Trade Ally box to the right to see the latest list of approved Home Energy Raters.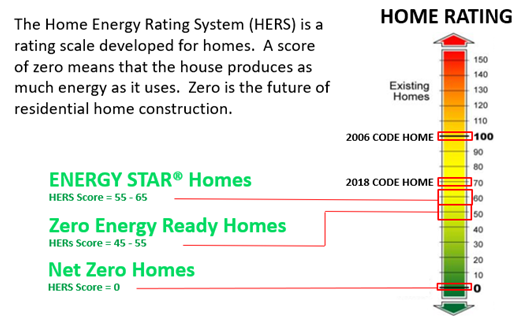 There are over 1.5 million homes in the United States that have been built to high energy efficiency standards. Below is a simple grid to show you the basic differences between home certifications. Code homes offer the minimum. ENERGY STAR homes are your value added choice.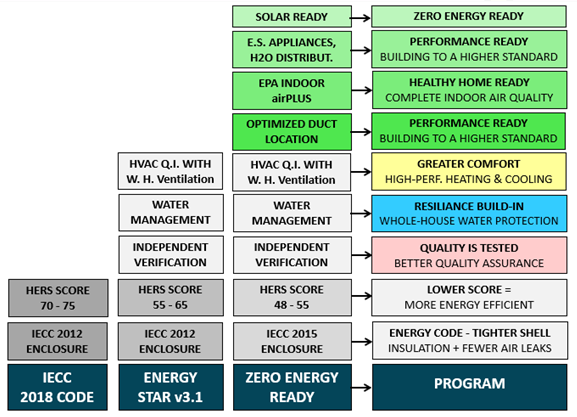 INCENTIVES
New Jersey has a great incentive program to help builders step-up to building ENERGY STAR homes. Despite this, only ~4,000 out of ~20,000 homes are built to ENERGY STAR standards every year. The barriers for building ENERGY STAR homes have never been lower. Don't settle for less, ask for the best. Ask for a high efficiency home not just a pretty one. Even better, ask for a Zero Energy Home.
YOU-TUBE VIDEOS
Here is a list of videos that may be helpful to you as you learn more about ENERGY STAR and high performance homes. NJCEP claims no responsibility for the content of these videos. They are here for educational purposes. Enjoy.
If you are a builder and have questions about the NJ Residential Construction Program, please contact a rater. Please refer to the incentive schedule based on the program listed above. If you are a homeowner, please ask your builder about the NJ Residential New Construction Program. Find out more information about the program through the Residential New Construction Program Guide.
New Jersey ENERGY STAR Homes are designed to achieve 15% more energy efficiency than the building code. These homes meet ENERGY STAR version 3.0 or 3.1 standards, which means they are ENERGY STAR certified.
New Jersey Zero Energy Ready Home requires a high energy efficiency achievement in new home construction. The program requirements include meeting or exceeding all DOE Zero Energy Ready Homes technical standards, building in compliance with the ENERGY STAR Homes Program checklists, meeting 2015 IECC insulation levels, and certifying under EPA's Indoor airPLUS Program.
Zero Energy Home +RE (ZERH+Renewables)
This pathway has the same requirements as the ZERH pathway with the additional requirement that 100% the building's modeled energy usage is met by renewable energy systems installed prior to completion of the home.
Multi-Family High Rise (MFHR) Program requires 15% increased energy savings above code. This pathway will satisfy the requirements for ENERGY STAR Multifamily New Construction (MFNC) Version 1.1 certification, meeting
Online Training for Builders and Raters
(click above)