Home Performance with ENERGY STAR
This program is now available to all investor owned residential utility customers*. If you are interested in participating in the Home Performance with ENERGY STAR program, please visit this page to access your utility's website and phone number.

*Customers of Atlantic City Electric, Jersey Central Power and Light (JCP&L), Rockland Electric, Elizabethtown Gas, New Jersey Natural Gas, South Jersey Gas, and PSE&G.
Save money and energy in your home with
Home Performance with ENERGY STAR

Home Performance with ENERGY STAR offers "whole house" solutions to reduce both your energy costs and carbon footprint. Installing energy efficient upgrades in your home can save you up to 30% on energy costs and increase the comfort, safety, and durability of your home.
Home Performance will help resolve indoor air quality problems in your home. Health effects from indoor air pollutants may be experienced soon after exposure or, possibly, years later. Learn how detrimental poor indoor air quality can be to your family's health. Contact your electric or gas utility to learn more about this program.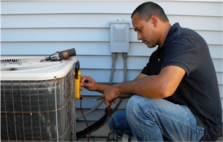 The State Energy Program (SEP) funding threshold has been met and therefore we are no longer accepting SEP applications.