Water Heaters
Utility customers who purchased HVAC equipment prior to July 1, 2021 may still submit their applications to NJCEP's WARM/COOL Advantage Program for heating, cooling, and water heating equipment. Customers will have 180 days from the purchase date to submit their rebate.

Note that HVAC equipment purchased on or after July 1, 2021 may be eligible for utility-run rebate programs. Please contact your utility for program requirements and information on how to apply.
To learn more about this transition and for utility contact information please visit this page.
The WARMAdvantage Program provides rebates for qualifying high efficiency boilers, furnaces and water heaters. To be eligible, you must purchase, install, and operate home heating systems that meet all program requirements. Call 866-NJSMART or see below for detailed information.
For a status update of processing COOL and WARMAdvantage applications, please visit the HVAC Portal landing page. At this time it could take up to 150 days to receive your rebate.
NEW! For faster processing Apply Online
It is highly recommended that customers or contractors submit applications online for quick and easy submissions. The HVAC portal may also be accessed and utilized via Tablet and Smart Phones (Android, iPhone).
Rebate Levels
Water Heaters*
Equipment
Type
Minimum
Efficiency Level
Rebates for units purchased October 1, 2020 through June 30, 2021
Natural Gas/Propane (Tank, Power-vented**)

<=55 gallons (storage capacity) & Uniform Energy Factor (UEF) 0.64, or greater OR >55 gallons (storage capacity) & Uniform Energy Factor (UEF) 0.85, or greater
$300
Natural Gas/Propane (Tankless- On-Demand) Water Heater
<2 gallons (storage capacity) & Uniform Energy Factor (UEF) 0.90, or greater (effective August 1, 2019)
$300
Electric Heat Pump Water Heater
Uniform Energy Factor (UEF) 2.0, or greater
$750
Boiler and Water Heater Combination Rebate
Qualifying boiler and water heating as noted below:

Integrated water heating and boiler unit (Combi Boilers)
OR a qualifying stand alone water heater (see minimum efficiency for water heaters above) and a qualifying boiler
OR an indirect water heater attached to the qualifying boiler being installed

$700
Furnace and Water Heater Combination Rebate
Install a qualifying Gas/Oil Furnace and a qualifying standalone water heater (above)

$700 w/ Tier 1

$950 w/ Tier 2

* As listed in the CEE or AHRI online database, which can be found at ceedirectory.org or AHRI.

** To determine if a gas water heater is power vented, visit the ENERGY STAR product list and download the Excel version of the water heater list and look for the "vent type" column to ensure the model is power vented.

Please note that all homeowners located in a designated Urban Enterprise Zone (UEZ) may be eligible for an additional $200 incentive per unit for the purchase of qualifying equipment (above). Verification of homes being located in a designated UEZ required. Also, low to moderate income (LMI) residents or projects identified as an affordable housing project may be eligible for an incentive of $200 per each eligible measure. Residents may benefit from only one bonus incentive: UEZ, LMI or affordable housing incentive. Apply here for the LMI incentive. Visit the eligible measures document for the affordable housing definition.
Application Forms
Note: The State Energy Program (SEP) funding threshold has been met and therefore we are no longer accepting and processing SEP applications for oil, propane and municipal electric customers.
Homes constructed under NJ's Residential New Construction Program are not eligible for the WARMAdvantage Program.
What is the difference between a power-vented and an atmospherically-vented water heater?
It is important to know the difference between these two types of water heaters. Only power-vented water heaters are eligible for an incentive from New Jersey's Clean Energy Program (NJCEP) (among other eligibility factors).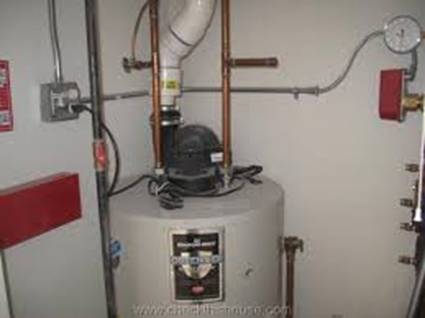 Atmospheric-vented water heaters do not have a motor to assist in drawing in and venting out flue gases as a result of combustion. Rather, the hot gases rise on their own as they are lighter than air and vent out a pipe or through the chimney. In contrast, power-vented water heaters have an electric-powered motor that is housed on top of the tank which powers a fan to draw in the flue gases and force them directly out of a vent pipe (see photo and note the motor housed on top of the tank).
Furthermore, there are some water heater models that utilize electronic dampers that open/close to assist in drawing out the combustion gases. However, this technology is not the same as industry-classified power-vented systems and ENERGY STAR lists these models as being atmospheric vented; therefore these models do not qualify for incentives offered by NJCEP.
When looking for a water heater that will qualify for an incentive, it is very important to consult the ENERGY STAR list of qualifying products to verify ALL eligibility criteria, and focus on Vent Type, Energy Factor or Thermal Efficiency.
Explanation of Heat Pump Water Heaters
Heat pump water heaters use electricity to move heat from one place to another instead of generating heat directly.
To understand the concept of heat pumps, imagine a refrigerator working in reverse. While a refrigerator removes heat from an enclosed box and expels that heat to the surrounding air, a HPWH takes the heat from surrounding air and transfers it to water in an enclosed tank.
A low-pressure liquid refrigerant is vaporized in the heat pump's evaporator and passed into the compressor. As the pressure of the refrigerant increases, so does its temperature. The heated refrigerant runs through a condenser coil within the storage tank, transferring heat to the water stored there. As the refrigerant delivers its heat to the water, it cools and condenses, and then passes through an expansion valve where the pressure is reduced and the cycle starts over.
By heating water only when it's needed, ENERGY STAR certified gas tankless water heaters cut water heating expenses, while lso providing continuous hot water delivery. Gas tankless models are a great choice for new construction and major remodeling, but are also becoming popular as a replacement for gas storage water heaters.
Questions?
Contact us at 866-NJSMART or submit your question online. Visit our Frequently Asked Questions page also.
Please allow up to 150 days from the date we receive all required information to process your rebate. To expedite the processing of your application, please be sure to review the instructions carefully and provide all required information and materials.


Do you have a gas water heater?
If so, find out more information on ensuring the safety of your appliance.