SREC Registration Program
The SREC Registration Program (SRP) is used to register the intent to install solar projects in New Jersey. Registration provides market participants with information about the pipeline of anticipated new solar capacity and insight into future SREC pricing. Please note that rebates are no longer available for solar projects.
NJ SREC Update:
Implementation of New 10-Year SREC Term
Clean Energy Act of 2018
Please be aware that to conform with the Clean Energy Act of 2018 signed on May 23, 2018, the Board has adopted rules to close the SREC Registration Program to new registrants upon the state solar electricity generation's attainment of 5.1% of retail electricity sales. A copy of the rule adoption is provided.
SRP Registration Processing Update
SRP Registrations are being reviewed by the SRP Processing Team within 4-5 days from the date the registration is submitted in the online portal.

NJ Certification Numbers are being processed within one week from the date the Final As-Built is submitted. At this time Final As-Built packets submitted through March 25, 2020 are being processed.

If you submitted an incomplete Final As-Built packet, the SRP Team is processing deficiencies that were uploaded within 1-2 days. These revisions will be reviewed in the date order they were uploaded into the online portal.

Additional status of Final As-Built submissions:

225 are currently under incomplete status
4 which were deemed incomplete have uploaded revisions
292 submissions from the portal are pending review
After the registration is accepted, construction is complete, and final paperwork has been submitted and is deemed complete, the project is issued a New Jersey certification number which enables it to generate New Jersey SRECs. SREC's are generated once the solar project has been authorized to be energized by the Electric Distribution Company (EDC). The following charts shows the volume of registrations submitted, as well as acceptance letters and registrations issued: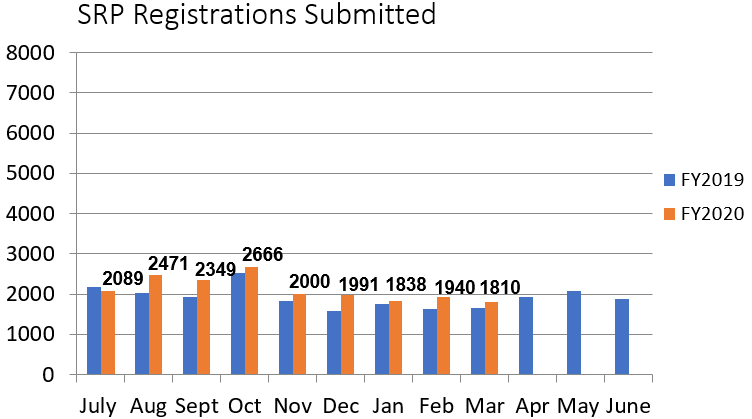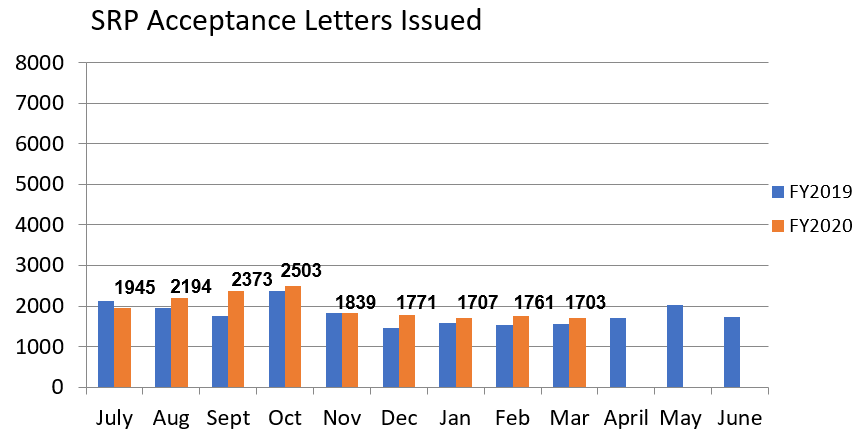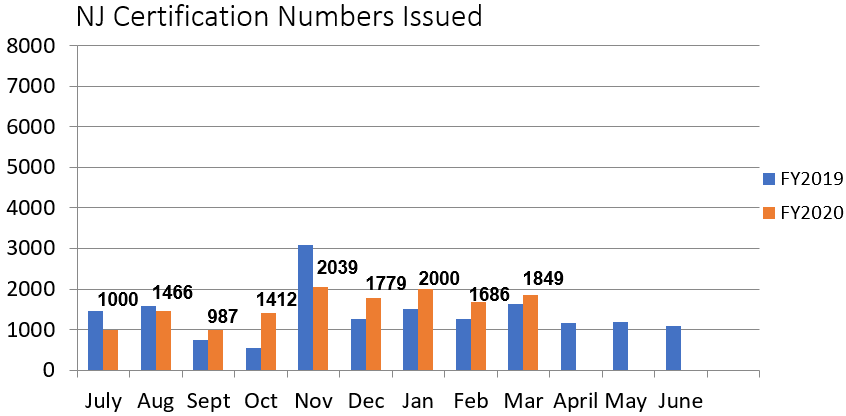 How did New Jersey Become a Leader?
New Jersey's Clean Energy ProgramTM was established in 2001. That year there were only six solar installations in the state. Since that time, New Jersey has established a model program and an integrated approach to solar development that includes:
A strong Renewable Portfolio Standard (RPS) with a dedicated carve-out for solar generated electricity that has helped create sustainable demand and investor confidence in the market. Learn more.
Excellent interconnection and net metering standards that have made it easier for projects to connect to the distribution system and be compensated for their contribution. Learn more.
A SREC financing model that provides energy certificates and additional long term financing for those who invest in solar.
How do SRECs work?
Each time a solar installation generates 1,000 kilowatt-hours (kWh) of electricity, an SREC is earned. Solar project owners report the energy production to the Generation Attribute Tracking System (GATS). This reporting allows SREC's to be placed in the customer's electronic account. SRECs can then be sold on the SREC Tracking System, providing revenue for the first 10 or 15 years of the project's Qualification Life.
The Clean Energy Act, signed by Governor Murphy on May 23, 2018, included the following provision: "For all applications for designation as connected to the distribution system of a solar electric power generation facility filed with the Board after the date of enactment of P.L. 2018 c. 17 (C. 48:3-87.8 et al.) the SREC term shall be 10 years." L. 2018, c. 17, 2(d)(3).
On October 29, 2018 the New Jersey Board of Public Utilities clarified the language above as follows: NJ SREC Update: Implementation of New 10-year SREC Term.
Electricity suppliers, the primary purchasers of SRECs, are required to pay a Solar Alternative Compliance Payment (SACP) if they do not meet the requirements of New Jersey's Solar RPS. One way they can meet the RPS requirements is by purchasing SRECs. As SRECs are traded in a competitive market, the price may vary significantly. The actual price of an SREC during a trading period can and will fluctuate depending on supply and demand. See recent SREC trading prices.
What is the SREC tracking system?
All solar energy systems eligible to earn SRECs must report system production based upon readings from a revenue-grade meter that meets the American National Standards Institute (ANSI) Standard C12.1-2008. This meter is in addition to the electric meter installed by the local utility to measure the home or business' electric consumption. On May 1, 2012, the New Jersey Board of Public Utilities (BPU) re-adopted Chapter 8 rules with amendments that became effective on June 4, 2012. In re-adopting N.J.A.C. 14:8-2.9(c), the Board eliminated the use of production estimates for systems with a capacity of less than 10 kW. The revenue-grade meter must be installed by November 30, 2012. Following that date, SRECs will be issued to systems based only upon readings obtained from a revenue-grade meter measuring the system output. See NJ Administrative Code.
Once your solar project has been installed and your online SREC Tracking System account has been established, SRECs will be deposited in your account. The SREC Tracking System also records the sale of SRECs from generators to purchasers.
New Jersey's Clean Energy Program uses the SREC Tracking System GATS (Generation Attribute Tracking System), developed and supported by PJM Environmental Information Services (PJM-EIS).
Call 866-NJSMART (866-657-6278) for more information on NJCEP or 877-750-GATS (4287) for information on the PJM-EIS SREC Tracking System.