COOLAdvantage and WARMAdvantage FAQs
The time period for utility customers who purchased HVAC equipment prior to July 1, 2021 has ended. Applications are no longer eligible to submit through NJCEP's WARM/COOL Advantage Program for heating, cooling, and water heating equipment. Note that HVAC equipment purchased on or after July 1, 2021 may be eligible for utility-run rebate programs. Please contact your utility for program requirements and information on how to apply.
To learn more about this transition and for utility contact information please visit this page.
Note: All program instructions, terms and conditions are noted on the front page of the paper application and/or the online application.
How do I apply for COOLAdvantage and/or WARMAdvantage rebates?
You have three options to check the status of applications submitted for purchases made prior to July 1, 2021. For purchases made July 1, 2021 or later, you must contact your gas or electric utility for instructions on how to submit an application.
1. ONLINE: Your contractor may submit your application for you using the online Contractor Portal. You may assign your rebate to your contractor, in which case he/she will deduct it from your total project cost.
2. ONLINE: You-with your contractor's help-may submit your application using the online Customer Portal. Directions for submittal can be found on the portal.
3. Paper Application: You may submit a paper application, along with your supporting documents, to the address on the application. Please allow extra time for processing paper applications.
Can I check the status of my rebate online?
Yes, but it depends on how you submitted your application.
1. If your contractor submitted your application for you online via the Contractor Portal, you must ask your contractor to check your rebate status for you.
2. If you submitted your application online via the Customer Portal, visit NJCleanEnergy.com/HVACPORTAL and follow the steps below to check your rebate status:
Click on "Customer Portal"
Click on "Find an Existing Rebate."
Enter your electric utility account number and your last name
View a list of your rebate applications and the status for each
3. If you submitted a paper application through the mail, you will need to contact 866-NJSMART to check your rebate status.
How long does it take to get my rebate check?
Please allow up to 150 days from the date we approve your application for rebate payment. As we process your application, if any information is missing or incorrect, your contractor will be sent remediation directions by email, if he/she submitted your application. You will be sent remediation directions by email if you applied online or by letter if you applied by mail.
What is an AHRI number? How do I obtain the AHRI Certificate?
The efficiency level standards for our rebates are based on the Air-conditioning, Heating and Refrigeration Institute (AHRI) certified performance criteria. These ratings are found on the AHRI website by entering your model number(s) into the appropriate fields. You should submit a copy of the AHRI certificate rating sheet with your application and place the certificate number in the appropriate field on the application. We recommend you ask your contractor for assistance.
I just received an email/letter advising of missing or incorrect information. How do I provide you with the appropriate information?
It depends on how you submitted your application to the program:
If your contractor applied for you using the online application through the Contractor Portal, your contractor must upload the revised documents via the Contraction Portal for you.
If you applied using the online application through the Customer Portal or submitted a paper application, you must submit your missing or incorrect documents by mail. Please reference the Rebate ID # found on the email/letter you received. Mail to New Jersey Clean Energy Program – Revised COOL/WARM App, 75 Lincoln Highway, Suite 100, Iselin, NJ 08830
What is defined as a proper proof or purchase/receipt?
It is important that the proof or purchase be legible. On contractor letterhead, please include the following:
The homeowners name and address (same as on application)
Purchase date
Note as "Paid in Full" or in the process of payment installments (i.e. a proposal or quote does not indicate proof of purchase)
If multiple pieces of equipment, itemize the total cost of each item (equipment + labor).
Can I use any contractor to install my HVAC equipment and still get a rebate?
Yes. If you are replacing your furnace or boiler, you can use your own preferred contractor to do the work since rebate eligibility is tied to the energy efficiency of the installed equipment - not the contractor. If you select a whole-house approach to energy-efficiency to take advantage of the generous incentives offered through Home Performance with ENERGY STAR (HPwES), you need to select a participating HPwES contractor. Contact your electric or gas utility for more information on the Home Performance Program.
What is the difference between a power vented and an atmospherically vented water heater?
It is important to know the difference between these two types of water heaters. Only power-vented water heaters are eligible for an incentive from New Jersey's Clean Energy Program, NJCEP, (among other eligibility factors).
Atmospheric-vented water heaters do not have a motor to assist in drawing in and venting out flue gases as a result of combustion. Rather, the hot gases rise on their own as they are lighter than air and vent out a pipe or through the chimney. In contrast, power-vented water heaters have an electric-powered motor that is housed on top of the tank which powers a fan to draw in the flue gases and force them directly out of a vent pipe (see photo and note the motor housed on top of the tank).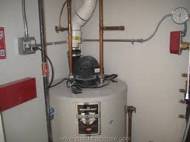 Furthermore, there are some water heater models that utilize electronic dampers that open/close to assist in drawing out the combustion gases. However, this technology is not the same as industry-classified power-vented systems and ENERGY STAR lists these models as being atmospheric vented; therefore these models do not qualify for incentives offered by NJCEP.
When looking for a water heater that will qualify for a rebate, it is very important to consult the ENERGY STAR list of qualifying products to verify ALL eligibility criteria, and focus on Vent Type, Energy Factor or Thermal Efficiency.
Do you recommend a tankless water heater?
It depends on your situation. If you often run out of hot water, have limited space and need a water heater that doesn't take up much room or want a water heater with a longer life, then tankless may be the way to go. Remember, you'll pay more upfront but a tankless water heater could reduce your water heating bills by about 30 percent*! Every home is different so find out what works best for you.
*source: ENERGY STAR
What do I need to know about combustion safety?
Learn about combustion safety and read the Combustion Safety Frequently Asked Questions.